Working with Men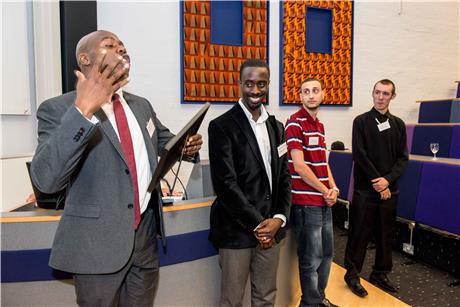 About:
Working with Men is an award winning charity supporting positive male activity, engagement and involvement. Through evaluation of our work over the last seven years which now includes direct consultation with more than 80 young men on and around the Pepys Estate in Deptford we have identified a large and growing gap in provision for young men/ boys. We were seeing different young men experiencing the same life challenges and many appeared to have similar histories and backgrounds. These young men were generally NEET, discouraged and sometimes angry. Further investigation found that a large majority were also fathers and that this factor was totally overlooked by almost all services. Many were known to the criminal justice system or had been looked after by a Local Authority. Significant numbers were from BAME groups and 96% were from less affluent circumstances by national comparison. Statistics justify these findings on a wider scale, among 15-17 year old offenders 12% have children of their own (Prisons Inspectorate estimate); and among those aged 22 and under, nearly half are (or are about to become) fathers – as well as having literacy/numeracy levels below age 11. Over half have been in care; many have experienced violence or sexual abuse at home; and few have had models of good fathering. Early fatherhood either helps prevent re-offending or strains fragile coping mechanisms and damages self esteem. Post-release support for young offenders as fathers is poorer than for adult offenders. (Parenting Under Pressure: Prison. London: Young Voice, 2005).
How DCT has helped:
Working with Men has received funding over the last three years from the Deptford Challenge Trust for one part time Fathers Development Worker. Although we have worked across Lewisham for the last 10 years, the intensive targeting in Deptford has begun to show significant progress and multi-year funding has meant we could build on this success. Our interim reports have highlighted the outcomes achieved through the consultation process and continued presence of an experienced and skilled worker around the estate. As experience has told us, NEET (not in education, employment or training) young fathers and men who are marginalised and disadvantaged take time to engage , then further time to encourage and support them to make changes in their lives. This is because they have become entrenched in their NEET status, ca often have little family support and feel disempowered and let down by services schools and wider society.
Young fathers who are disadvantaged through being aged between 16 to 25 years who live on the Pepys estate and surrounding areas, in addition their children and families and the wider local community have benefitted. The project has engaged with on average 70 young men per year, moved 30 into positive activities, including training, education and employment and holds an intensive caseload of 5 to 10 young men at any one time, receiving regular (weekly to fortnight) mentoring on parenting, practical circumstances, employability and other areas identified between the worker and service user.
The activities delivered through the project by the Young Fathers Development include a comprehensive set of activities on an ongoing basis for the next two years, building on our targeted work over the last two years with young NEET Fathers and young men in Deptford.
The primary focus of the project will continue to be the activities aimed at supporting service users to move from engagement to finding employment, stability in their lives and ultimately contributing positively to their families and community, some of the activities already delivered are listed below;-
Key activities coordinated:
A 4 week employment programme for NEET young men in partnership with DWP JC Lewisham:
An educational enrichment orientation day trip for Young Fathers to Brunel University
Young Fathers attended Working with Men's 10 Year Anniversary celebration at the House of Commons Terrace
A 4 week boxing fitness programme in partnership with Active Communities
A one day end of year Enrichment Programme event which included a go-karting team building activity, informal forum and discussion with Cllr David Michael (Labour Party), and a goal setting session delivered by Fix Up Seminars.
They say
L.S, age 21:
"When I first met YF worker I was a bit scared because when Emma was born I never had any help from any of the services around London. When I went to the her Mum's family nurse partnership's birthday event that's when he approached me and said what he did and how he could help me.
"After a week of meeting him he phoned me for a meeting to say how he could help me with anything I need and I felt that it was great to have someone by my side. After about a month I didn't picture Arnold as my Young fathers worker, he had that side that made me feel he was a mate :). He told me ways to attend interviews he always checks how my interview went.
"About 3-4 weeks ago I told him how he has had a big impacted on my life and I want to help people that was in my shoes so then he phoned me up saying that he has found me a perfect job that before I never would have thought I wanted. He help me get prepared for the interview and help show me how to write on my cover letter and now I have a job in the young dads council thanks to this young sir.
"Ever since Arnold showed me the way all I want to do is help people that's was in my situation and help them find a brilliant services just like the services WWM gave me"
W.T, age 25:
"When I first met the YF worker Arnold I wasn't particularly interested in help as I wasn't sure what I wanted to do and I also, wasn't really looking for work. But, when it came down to it he was the only person that was actively trying to help me progress in life and over the coming weeks/months we have grown a very good friendship, I have the upmost respect for the YF development worker and the work/effort he puts in helping others in the area. Thanks to WWM I have completed 2 courses and gained qualifications that are essential in building a career, now I'm fully focused on what I wish to achieve. Again, I can't thank all involved enough for all jus work and the amazing opportunities he has helped me attain."