Teatro Vivo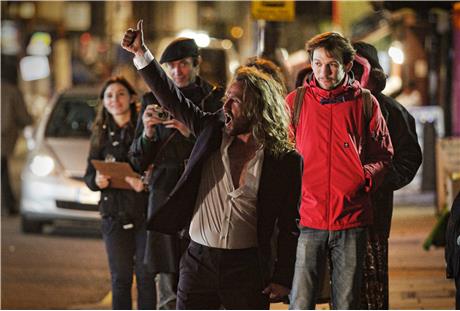 About:
Teatro Vivo are a theatre project based in South London, who inspired by classic stories and new writing, make theatrical productions in any non-theatre venue, aiming to inspire people to contemplate the nature of human engagement through their performances, encouraging a sense of play for all who experience them. In order to maximise cohesion within the community, Teatro Vivo collaborate with artists from all backgrounds to open up the possibilities of what theatre can be; encouraging non-professionals to participate in our process allowing us to share and learn skills and wisdom.
How DCT has helped:
In 2014, Teatro Vivo developed a community chorus that performed alongside a professional cast in The Hunters Grimm, a promenade theatre production taking place on and around Deptford High Street. Over the course of six workshops, the group trained a team of community chorus performers to create characters, tell stories and sing songs. The project was entirely focused on maximising the confidence of the user group, so community chorus members were encouraged to write their own scripts, lyrics and music and given opportunities to be mentored by the professionals, rehearsing and performing alongside them. Most had never performed before, yet delivered three weeks of sell-out shows. Even those who had signed up to help backstage ended up performing in the production.
By connecting their users with the different site locations, the whole of Deptford ended up getting involved with Teatro Vivo's project. For the first time, street drinkers and the homeless in Deptford became part of a local event and therefore became more connected to their local community.
The relationships built with these people mean that they are already speaking to more people on the streets and in the various sites were used in a less antagonistic way than before: The Deptford Lounge and The Albany have both reported previously unruly members of the public now coming and asking for help.
Two members of the community chorus, Steve and Ray, despite having musical experience, were for the first time given the opportunity to write and perform their own songs, and have been inspired to continue doing so after the project.
By participating in the Community Chorus, all those involved expressed a growth in their sense of self-worth and confidence. The nature of the chorus requires individuals to take responsibility for their own performance and to work together as a team. This autonomy allows them to carry this confidence with them long after the project is over.
By having the Hunters Grimm staged along the streets of Deptford, the community rallied round to support it and, especially on Halloween, became a glorious backdrop. The audience feedback states how much people enjoyed experiencing Deptford in this way. This sense of pride from the locals and appreciation from those new to Deptford will make a lasting impact on the community as a whole, and will be instrumental in allowing Teatro Vivo to create more theatre experiences in Deptford.
Case Study:
Doris is 92 years old and lives in Woolwich. She attended every workshop and performance and played the "13th Wise Woman" in The Hunters Grimm, a character she created herself. Over the workshops and performances she developed a wonderful character and was brilliantly supportive and encouraging to the other participants. Doris shared that working with Teatro Vivo was the most fun she has ever had and is hoping to work with them again as soon as possible!