Bench Outreach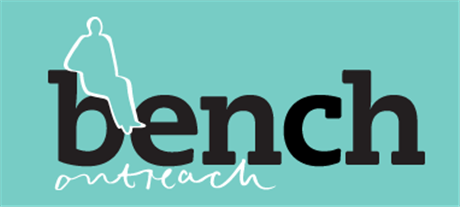 About:
Bench Outreach helps homeless people find accommodation and supports people with drug and alcohol problems to access treatment. The organisation operates three core projects:
1. Access to Housing and Treatment: offers signposting, advice, referral and advocacy by making in-depth needs and risk assessments of vulnerable people. The people Bench Outreach helps are usually homeless or threatened with homelessness and have difficulty accessing treatment because of drug and alcohol use or mental health problems.
2. Housing First: places vulnerable, entrenched homeless people directly into self-contained independent housing and provides them with the support they need to maintain their tenancies. This approach is based on the belief that many homeless and at-risk people are more responsive to help and support when they are in their own home, rather than while living in hostels.
3. The Evening Service: a partnership with The Bear Church in Deptford. On Sunday evenings, a team of Bench Outreach staff and volunteers, alongside members of the church, prepare and serve food to around 60 vulnerable and homeless people. Around 3,000 meals are served every year. The evening is an opportunity for people to talk to us about their housing and treatment needs and to receive signposting to appropriate services.
How DCT has helped:
Funding from the DCT in 2013 helped fund a manager and a complex needs project worker to develop and negotiate an advocacy protocol with the commissioned drug and alcohol treatment agency in the London Borough of Lewisham and to develop a 'Housing First' project for homeless and vulnerable people in Deptford and New Cross.
Case Study:
James accessed the service in March 2013. He was referred by Deptford Reach. From New Cross, he was 35, unemployed, on benefit, alcohol dependent, and living in inappropriate private rented accommodation. He said he wanted to go to rehab, and this was being thwarted by the community drug and alcohol treatment service and the probation services, who were arguing about who should fund his residential treatment. He had long history of offending when drinking, but claimed that this was usually a cry for help. He suffered abuse as a child and this caused him difficulties in creating and maintaining relationships. He had separated acrimoniously from his partner, and had not seen his seven year old daughter for two years.
Bench Outreach staff assessed James, and decided to advocate for him. He agreed to attend the office twice weekly to engage in counselling – mainly around triggers for his drinking, and relapse prevention techniques. During this time, we challenged both the treatment provider and the Probation Service, with no success.
James kept up his engagement with Bench Outreach, despite many relapses and arrests for anti-social behaviour, and we recognised that we could not rely on probation or the commissioned services to seize the window of opportunity that existed where he was in the right frame of mind to enter rehab. The group made a referral to Kairos Community Trust, a rehab, who agreed to accept him without funding, but they had no immediate vacancies. They asked that Bench continue to work with him in the meantime.
We carried on seeing James regularly, and he did well in maintaining sobriety until a week before he was due to enter Kairos, when he assaulted a police officer. We were contacted by his solicitor and asked to support him in court, with the aim of avoiding a custodial sentence, which would stop him going into rehab. We wrote to the Court, and attended the hearing. On our evidence, the Court decided to postpone sentencing, and allow James to enter Kairos, on the condition that he return in six months to report on his progress. We arranged for him to enter Kairos immediately after the court case, and accompanied him from court to their first-stage house in Nunhead.
He went into Kairos in July, and has fully embraced the opportunity. By now, we had also managed to sort out the funding problems, so his treatment could be intensified. We returned to court in January and he was sentenced to attend probation once a month, allowing him to remain in Kairos. During his time there, he decided to return to education, and asked Bench Outreach to support him in an application to study Law at Birkbeck. He is still sober, has now moved into a second stage house and is looking forward to starting his new life as a student. He has also successfully applied to the courts for access to his daughter, and he sees her fortnightly, and while still having issues with his ex-partner, they now both have an adult relationship, working together to ensure their daughter is well cared for.