The Board of Trustees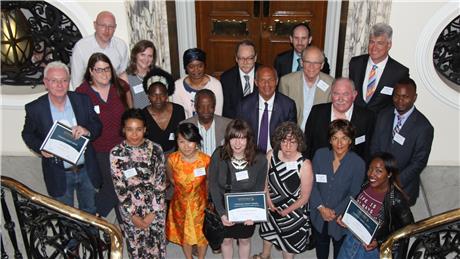 The Deptford Challenge Trust is managed by a Board of Trustees who have been selected for their skills and knowledge of Deptford and its voluntary sector.
Des Malone, Chair
Des has been a board member of Deptford Challenge Trust since its inception and was elected Chair in 2014. He has lived in New Cross since 1985 and taught at Deptford Green School for 25 years before becoming Headteacher of John Roan School in Greenwich in 2008. Des retired in 2015 and continues to be active in the voluntary sector in Deptford. He was Chair of Deptford Community Forum for 15 years, trustee of several Deptford based charities, Vice Chair of The Lewisham Local Strategic Partnership and served on several local Single Regeneration Boards and New Cross Gate New Deal for Communities.
Shaun Hetherington, Vice Chair
Shaun is Vice Chair of the Deptford Challenge Trust and has been on the Board since it was founded. He has been involved in local business for over 20 years, being the Managing Director of his own company throughout this time. He was formerly a Director on the Board of the South East London Chamber of Commerce and is also Vice Chair of Governors at a local primary school. He has three sons, one of whom is now studying at Goldsmiths University.
Robert Flook, Treasurer
Robert was introduced to Deptford Challenge Trust through his work in the area and joined the Board in July 2007. In addition, having lived within the DCT area for 8 years he has a keen understanding of the dynamics and needs of the community as they change. Through his training as a Chartered Accountant and a career in the property sector he has been able to assist the Board on several projects. He has also served on the Audit Committee, helping ensure that the charity meets the financial standards expected of it.
Cllr Jim Mallory
A Lewisham councillor for over 20 years, during his first stint (1986-2002) he represented the Deptford High Street area and was Leader of the Council from 1995 to 1998. He was chair of Creekside Regeneration Board and has been a Deptford Challenge Trust Board member since 2007. A former journalist and lifelong trade unionist and community activist, he remains committed to Deptford where he learned – as he says – how much the lives of people can be bettered by community and voluntary groups who contribute so much to making Lewisham a genuinely multi-cultural borough.
Bill Ellison
Cllr Obajimi Adefiranye
Stella Brown
Matthew Brook
Declan Flynn