Open Programme Recipients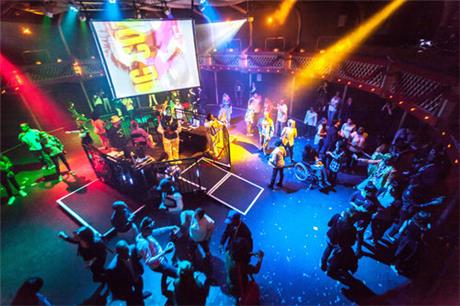 In 2018 DCT awarded fourteen grants under the Open Programme
For a housing and treatment service reaching 400 homeless people over one year.
FoodSkills Training
To provide a food preparation and work experience programme for eight unemployed young people in Deptford.
Afghanistan and Central Asian Community Association
To fund a part-time Integration Officer post, and delivery of three weekly two-hour ESOL classes for 48 refugees.
Bright Beginnings
For weekly one-hour aerobics, dance, fitness, cooking and wellbeing classes for 80 older residents, lone parents and women on the Leander and Vanguard Estates.
For a four-day programme of film-making sessions with a group of 10-15 homeless people from Deptford Reach.
Deptford Methodist Mission Disabled People's Contact
For the salaries of two minibus drivers to enable vulnerable older people to access the day centre three days a week and attend 10 day trips.
To fund a series of community events in the parks, two forest school workshops and an exhibition on trees, benefiting 500 people.
For a 12-month development project to engage 20 severely frail and terminally ill people in arts and creative activities in Deptford, and for organisational development.
Evelyn Parents Forum
To support delivery of 12 activity days over six weeks of the summer holiday, for low-income residents of Evelyn Ward.
To work with The Albany and three visiting theatre companies over 12 months to increase and improve opportunities for 25 visually impaired people to participate in the arts in Deptford.
For a multi-stranded community cohesion project focussed on the continuation and development of the theatre and its activities, benefitting 460 people.
To contribute towards low-cost residential breaks for 13 groups of 15 young people from the DCT area, from disadvantaged backgrounds and/or with disabilities.
To create a new play called Evelyn's Roots and stage free outdoor promenade performances of the show in Evelyn Ward.
To establish a cycling-based programme in Deptford, to provide renovated bikes for, and reduce social isolation amongst refugees and asylum seekers.
One-year grants - 2017
In 2017 the DCT awarded ten grants under the new Open Programme. Grant sizes ranged from £4,968 to £29,940 for projects of up to one year which benefit the residents of the DCT area.
To deliver 4 days of face-to-face welfare advice to a total of 700 clients across at least 2 venues, in partnership with Evelyn 190 Centre.
To fund an Outreach Worker to free up the Director and Finance Director's time to focus on the strategic development of the organisation.
For a joint project with Deptford Reach to integrate homeless support services.
Evelyn Parents Forum
To support delivery of 12 activity days over 6 weeks of summer holidays, for low-income residents of Evelyn ward.
To host a series of live events and an art installation involving 175 people with learning disabilities in Deptford to celebrate the 30 year anniversary of Heart n Soul.
To run five weeks of video and filming workshops with young people and local organisations in Deptford, leading to an AQA qualification in film-making for 40 young people.
To pilot the 'Speak Up and Wellbeing' peer support group for 12-15 people with a learning disability living in the DCT area.
Lewisham Vietnamese Women & Families Association (VINAWOA)
For a core grant to employ a part-time Coordinator.
To develop parent volunteer schemes at Lucas Vale and Grinling Gibbons Primary Schools.
To provide therapy to young care leavers who are living in independent flats within the DCT area.
Core grants - 2017-20
In 2017 two three-year Core grants of a total of £60,000 were awarded to:
To support the 999 Club's involvement in the three-year national partnership to pilot the Mayday Trust's 'Inspire' Personal Transition Service, for people who are currently homeless, have recently been homeless, or are at high risk of becoming homeless.
To enable the expansion of the Creekside Discovery Centre, which provides low-tide river walks and environment education activities for children, and also support the conservation, protection and improvement of the physical and natural environment in Deptford Creek and River Thames area.